Can I give this six stars?
No seriously, can I? I think that should be an option- especially for this fun, FUN read by Jenn Cooksey.
Jenn Cooksey, you have yourself a new (and most likely life-long) fan.
I have a feeling I'm going to do a lot of gushing and blabbering in this review so just bear with me my dears.
Now I have to say I'd heard a lot of praise about the Grab Your Pole series, but for some absurd reason I was very apprehensive about picking it up- despite the reviews and quotes I'd read. *smacks self upside the head*
So after browsing through tons of books online, and in the library, I came to the most important question of my life,
"What do I read next?"
Now you see I'm the sort of person who gets really invested in books and after the first few pages of any book I totally forget where I end and where the protagonist starts. Due to this little book-nerd problem of mine, I've spent many nights crying my heart out over some fictional character or the other and going to school the next day looking like something that's been dragged from the depths of hell. Yep, you guessed it- Red nose, pale cheeks, and swollen eyes does not a pretty Shubhi make.
Then one day my poor battered heart decided it couldn't take any more, and since then I've been doing my best to stick to happy, cheerful, funny, inspirational, light and HEA books. Except with all these NA titles with tortured heroes in need of a saving being released each month, I do find myself crumbling and giving in to the temptation...

Damn it. I'm getting distracted again. Where was I? *Scans through what's been typed so far* Ah yes,
so as I was saying, I was looking for my next funny-as-hell book, when I found myself reading another review of Shark Bait and I peer-pressured myself (is that even possible?) into being a man and finally getting around to reading it.

And boy am I glad I listened to myself.

Shark Bait had me laughing along from the first page. It was hi-lay-ree-ous! I really appreciated the fact that while Camie, who was attending school for the first time after being homeschooled her entire life, wanted to fit in and make friends, she wasn't willing to do that at the cost of losing herself. I found myself snorting with laughter when she initially referred to Tristan as 'MY Tristan' despite the fact that she hadn't even talked to him yet, and for all she knew, he couldn't have cared less about her.

I was pleasantly surprised to find that I adored all of Camie's friends too- even 'Dear Jeff' and his impeccable timing.

Speaking of Camie's friends, if you combined Lonely Pete's and Kate's personality, you would get me. I'm not even kidding. As hard it is to imagine such a combination could exist, I must break it to you- it does. I've got Kate's people-reading skills and Pete's ghost-like persona.

Back to the topic at hand, I have to say I found myself wanting to push Camie aside and run for the president of the We Hate Teresa Club, I mean what was up with that chica? But I guess there's always that one person in every story and every high school who just wont take a hint and learn when to shut it.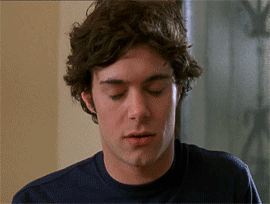 Enough about Teresa now, lets move on to Tristan. Now I loved Tristan, I really did, which is exactly why I wanted to b*tch-slap him for the licorice incident. I mean,
COME ON!
Not cool buddy, not cool- I almost had another bawl-my-eyes-out episode, but luckily it didn't reach that point. So while he did tick me off, I got over it soon enough because anyone with (or without) a pair of eyes could see that he truly cared for Camie and he was making an effort. Besides, it helped that he was completely adorable and not too hard on the eyes.
Btw, did I mention I think Jillian is pretty badass? Well she is! *I wanna be like her when I grow up!* *Too late for that maybe*
Now I can go on and on about how much I enjoyed this book and how I wish Jenn was my best buddy so I could get a little more insight about what goes on inside her and the characters' heads and all that sort of good stuff, but I have a feeling that would sound just plain stalker-ish and creepy- another side effect of being a bookworm
(we spend so much time with fictional people, we no longer know the etiquettes that apply to dealing with real people).
So I'm going to stop babbling now and tell you, nay, peer-pressure you to read Shark Bait if you haven't already done so, and while you're at it keep a lookout for Phineas and Ferb, and The Wall of Infamy too.

Trust me, you'll be glad you did.

Happy reading folks!